Spec Miata Exhaust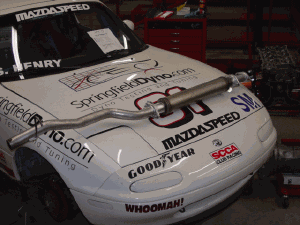 Even after many years, this is THE EXHAUST to have.
At the 2006 SCCA Runoff's this exhaust qualified 1st, 2nd, & 3rd, Set the fastest race lap, and won the National Championship Race.
On the 2004 ARRC winning car, this system produced 2hp and 2lb. of torque more than the expensive motorcycle style system that was used to win at Road Atlanta.
This system also produced over 4hp and 4lb. of torque more than the Mazda Comp system.

It has all mandrel bends which are much better than the crush ends you get at a muffler shop. Our highest priority is performance. Ease of installation is a distant second. There is little clearance near the back of our muffler, so please be prepared to loosen the PPF and position the angle of the engine for clearance if required. Our jig was build for cars with the engine/tranny set to factory service manual specs. Most SM engines are not installed to this spec. Worst case, the front flange may need to be cut partially off and welded back at the proper angle for your car. Even though a clamp is provided, please weld the tail section to the muffler. We have spent thousands on R&D trying to beat this system for our next released version, but this tried and true system always performs well when proper round robin dyno testing is done. Actually, we believe this established system is good for the SM class as many people are running exhaust systems for many years!
It also weighs 15.5 lbs compared to the 19.5 for the Mazda comp.
The sound level is slightly louder than the Mazda comp exhaust and much quieter than a "JD style" exhaust.
It has all mandrel bends which are much better than the crush ends you get at a muffler shop.
Now being run by top runners such as Daniels, Caddell, Drago, Bennett and, well they don't all want to be named. It's what we're running.
Please contact www.saferacer.com for purchasing information.